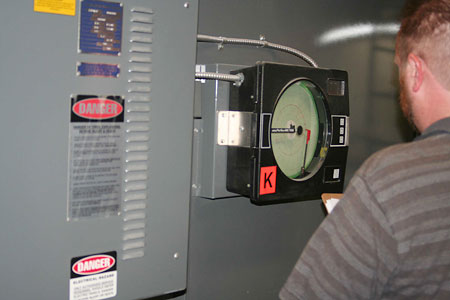 Checking an oven chart recorder.
Technical Composites is committed to producing top of the line composite products.


We are also committed to providing seamless certification and traceability.

We believe that inspection does not fall completely on the shoulders of the inspector. Quality begins on the workbench with our craftsmen.

All of our manufacturing processes are certified with an 8110-3 FAA approval, we can also work under the umbrella of customer processes and specifications.

Every part that we work on is serialized and assigned a workorder traveller that specifies inspection stops. As the parts are processed, we record oven time and raw material lot and batch numbers.

In our industry, it has often been said that the paperwork ends up weighing as much as the airplane. We keep all customer, vendor and workorder files on site for 5+ years.

As a subsidiary of Lou Martin & Assoc., Inc., TCC has full access to an on-site DAR representative. Also included is the ISO9001:2001 certification that LMA is currently pursuing which will additionally cover all aspects of AS9100 standards. This allows us to work lock-in-step with your certification team to provide DAR approved and tagged parts that are ready for installation in your assemblies.


&nbsp
&nbsp
&nbsp