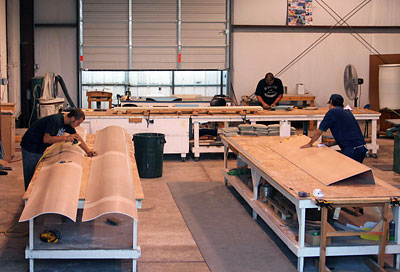 Fabrication shop floor.
Technical Composite Corporation is a full service composite shop that can accommodate both production and custom composite work.

At Technical Composite Corporation, our mission is to work with our customers in the design, development & construction of a quality composite product to fit both unique and standard manufacturing applications.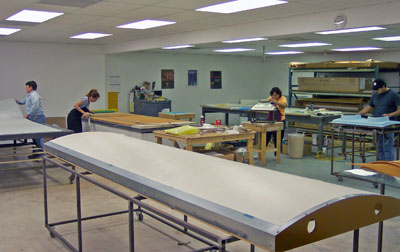 Composite lay-up clean room.

Our clean room for composite lay-up is isolated from the fabrication floor of the shop.

All of our pre-preg glass is stored in an alarm-triggered freezer.

For safety all customer and TCC product tooling is stored in a dedicated separate building.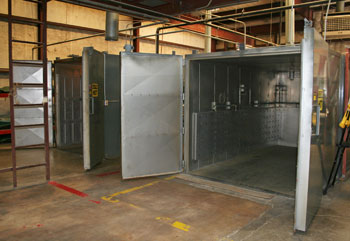 Steelman walk in ovens.

We have two Steelman Ovens on-site.

Model 6714
Interior dimensions are: W6' X H7' X L14'
Max temperature is 500 degrees F

Model 7714
Interior dimensions are: W7' X H7' X L14'
Max temperature is 500 degrees F

Both of the ovens are digitally charted to insure proper cure time, vacuum pressure and temperature control.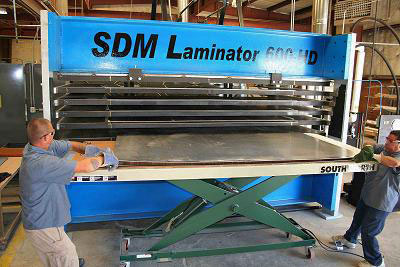 Nomex Honeycomb panel being processed.
SDM Laminator 600HD Panel Press
Max platen panel dimensions: W5' X L12'
Our press can process 5 panels at a time.
The panels can be made from a wide variety of cores and skin materials.
TCC can also produce panels that will meet heat and smoke release testing for large passenger planes.
For more information on panels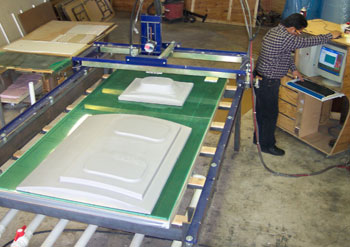 Machining a window reveal tool out of foam
using 3 axis CNC router.

Shopbot 3 axis CNC router
Max working area: L8' x W4'

Precision is key in our industry.

Our CNC allows TCC to produce custom tooling.

This insures repeatability and transforms custom parts into standard production parts.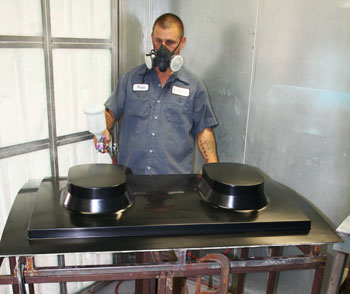 Applying surface coat to an Airbus window reveal tool.

Paint Booth
Interior dimensions: W9' x H8' X L8'

The paint booth is located in it's own building.

Our paint booth is used to facilitate the tooling and production end of our business.

We offer our customers primed parts that eliminate porosity.